June 30, 2018
6:00 pm / 11:45 pm
An evening event of intrigue, fascination and fabulous dancing.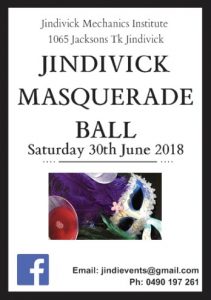 Dress in preloved or op shop costumes or ball gowns. Formal attire with flair. Masks are a must. Light supper will be provided. Drinks provided by Jindivick Cricket Club at bar prices. NO BYO. Entertainment provided by 'Two Shades' with music spanning from the 40s to now.
Ticket prices:
$35 per adult
$25 per child (13 & under)
Tickets at TryBooking, Details on Facebook
This is a fundraising event by the Jindivick Mechanics Institute to replace the existing stage and hall curtains.
30th June 2018
7pm – Midnight
LOCATION: Jindivick Hall 1065 Jackson's Track, Jindivick, VIC, 3818
CONTACT DETAILS
Contact: Gabi Mandel Ph : 0419321479  E: jindievents@gmail.com